My daughter developed such fantastic and strong qualities from her mother.  With an eye for business, self-learning, impeccable finances, she had her first job around 14 years old.  She thrives on self-discipline, order, and planning. She (like her mom) is responsible, thoughtful, and beautiful in every way. 
But, she also got some things from dear old dad. She loves to cook and eat, drives a pick-up truck, and finds joy in fitness through punching/kicking a heavy bag.  She was a daring and skilled springboard diver, she loves DC's football, baseball, and hockey teams… and she certainly got her love of fishing from me. 
Now older, my daughter has friends who occasionally invite her to do some offshore fishing, usually out of Ocean City, Maryland. The area they fish is at least two hours from the dock, sometimes cruising, and sometimes bouncing on the oft temperamental Atlantic Ocean. When she told me of her first planned trip some years back, I just hoped that she'd be safe and that she didn't get seasick.
When she returned from that first trip, she was absolutely beaming. She had "caught the bug". I had taken her fishing since she was strong enough to hold a fishing pole, usually at a local pond, the Potomac River, or at the beach… but this was her first time on a big fishing boat, hours from shore.
The pictures she shared from that trip were almost unbelievable. With four people fishing, they caught eight yellowfin tuna, with the largest weighing around 70 pounds! Along with immense pride and the joy of seeing her wide smile, I was seriously impressed by their success. The fish were caught one at a time, using rods and reels.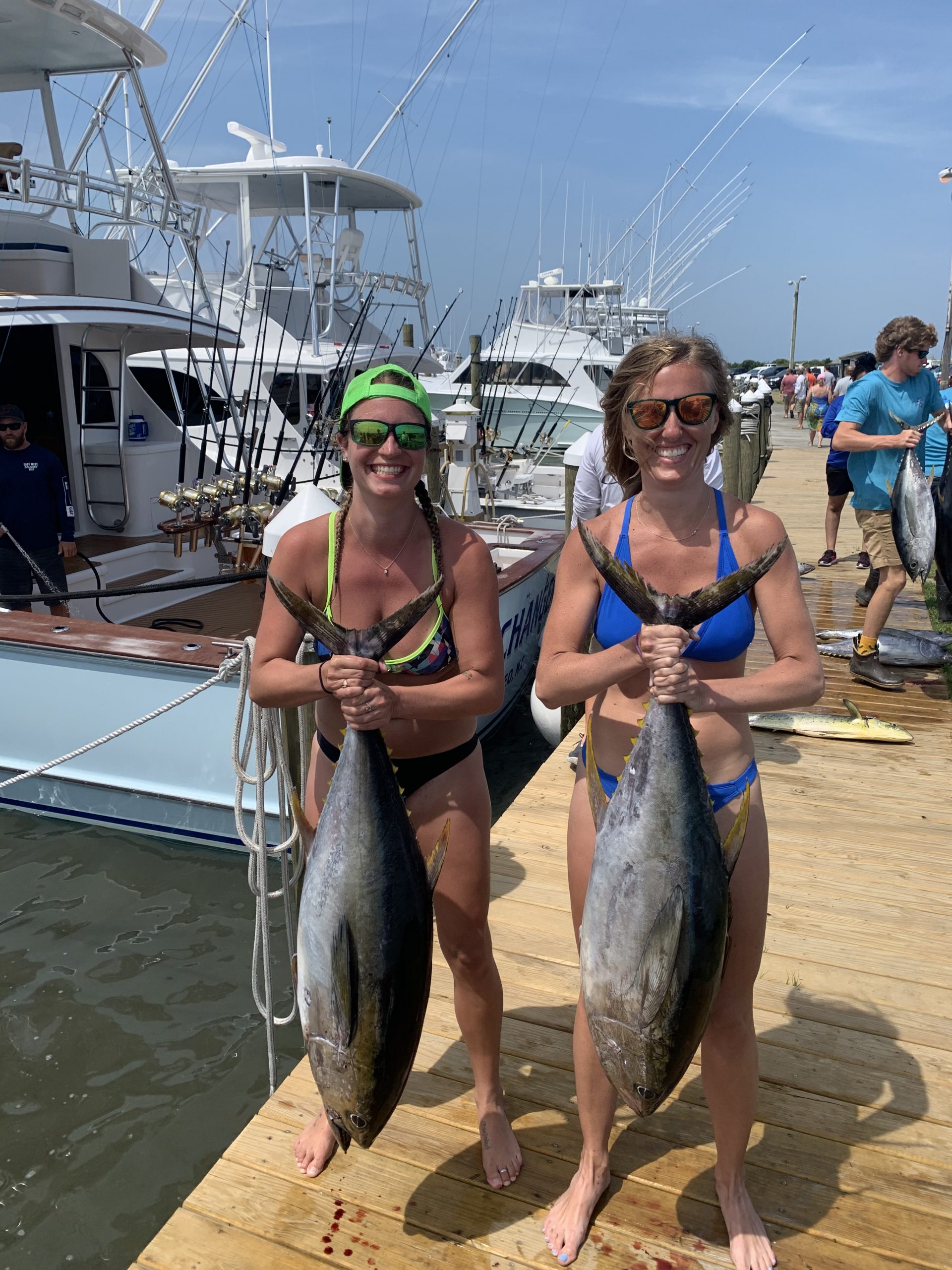 My daughter Haley (left) sportfishing with a friend, 2021.
Between the captain and one of his associates, they had all the necessary permits and processes to harvest and sell the fish commercially. After squaring away everything on deck and hosing down the boat, the fish were weighed and measured. Other than the few quick minutes for photos, the fish were covered in ice since they were pulled from the water.
When all of the work was done, my daughter followed her friends for the three-hour trip to a restaurant not far from home. Her friend's truck, full of ice and fish, pulled to the back of the restaurant, where the day's catch was unloaded by waiting workers. The fish were then cleaned (again), portioned, sealed, and stored in a walk-in cooler.
My daughter has been on several similar excursions since that first trip, and once caught (and released) a blue marlin around 250 pounds. They sometimes catch mahi too. Though she doesn't always share the same boat with the same friends, and she's not always privy to where the fish end up (sometimes sold at the dock), she's always ready to adjust her plans if she gets the chance to get back out to the fishing grounds.
So… someone catches fish between 8 AM and 1 PM (hours from shore), and those same fish were ready to be served just eight hours later. It doesn't get much fresher than that! What a glimpse into the blue economy!
As someone vehemently against overfishing, poaching, long-lining, bottom dredging, and all of the other destructive fishing methods that have proven to decimate stocks, damage the habitat, and literally wreck our oceans, this scenario shows that a regulated, permitted catch can be a benefit to the sportswoman (and sportsman), a vessel operator, a licensed harvester, a restaurant (small business), and consumers. 
author
John is a senior consultant at Visual Teaching Technologies. He brings decades of coastal Caribbean fishing experience, providing a fresh perspective on today's blue economy.
read john's full bio

See content.
Understand context.
Discover connections.
Evaluate consequences.
send us mail
P.O. Box 443
Morehead City, NC
28557
email Us
visualteachingtechnologies
(at)gmail.com