I fell in love with the island of Barbados around 1990, when my father-in-law bought a property there. He had fallen in love with it a few decades prior, when attending a year-end business award trip with his company.
They stayed at a posh resort, and were treated like kings and queens. He returned to Barbados a few years later, and explored the possibility of renting a house for his annual vacation. From there, he dug deeper into the communities, and ultimately found a property near the once famed Sam Lord's Castle resort.
Sam Lord's was operated by Marriot, and was a sprawling property on the cliff-lined and ragged east coast. It had villas and guest houses, pools, bars, restaurants, little huts selling jewelry and shells and cigars, a few tennis courts, and an unforgettably beautiful beach.
They hosted "Shipwreck Parties" once a week right on the beach, and paid homage to the pirate Sam Lord. There were dancers, fire blowing performers in ancient Caribbean dress, and music that can only come from an island in this part of the world.
My first trips to Barbados were fraught with anticipation… because telling you that I'm an avid fisherman would be quite the understatement. My dreams leading up to our first trip were all about the diversity of fish, and the possibilities of what I could catch (and release).
I had done as much reading as I could to prepare. What incredible and exotic photos would I return home with, to share and gloat with my buddies? I knew there were big fish swimming just off of those "alien cliffs", battered, worn, and jagged from thousands of years of rough waters and churning waves. My dreams were intermingled with a sleeplessness that only the most dedicated fisherfolk would understand.
I would soon find that my methods of angling would need some adjustment if I were to be successful in my Bajan (or Barbadian) fishing efforts. I needed to learn something new. I primarily use artificial baits (lures) to catch fish. In comes Derek, fondly known as "German" to his friends.
He was a local, and a fisherman, and he knew everyone. We became fast friends, and our few weeks together spent fishing would age well over the coming years and decades.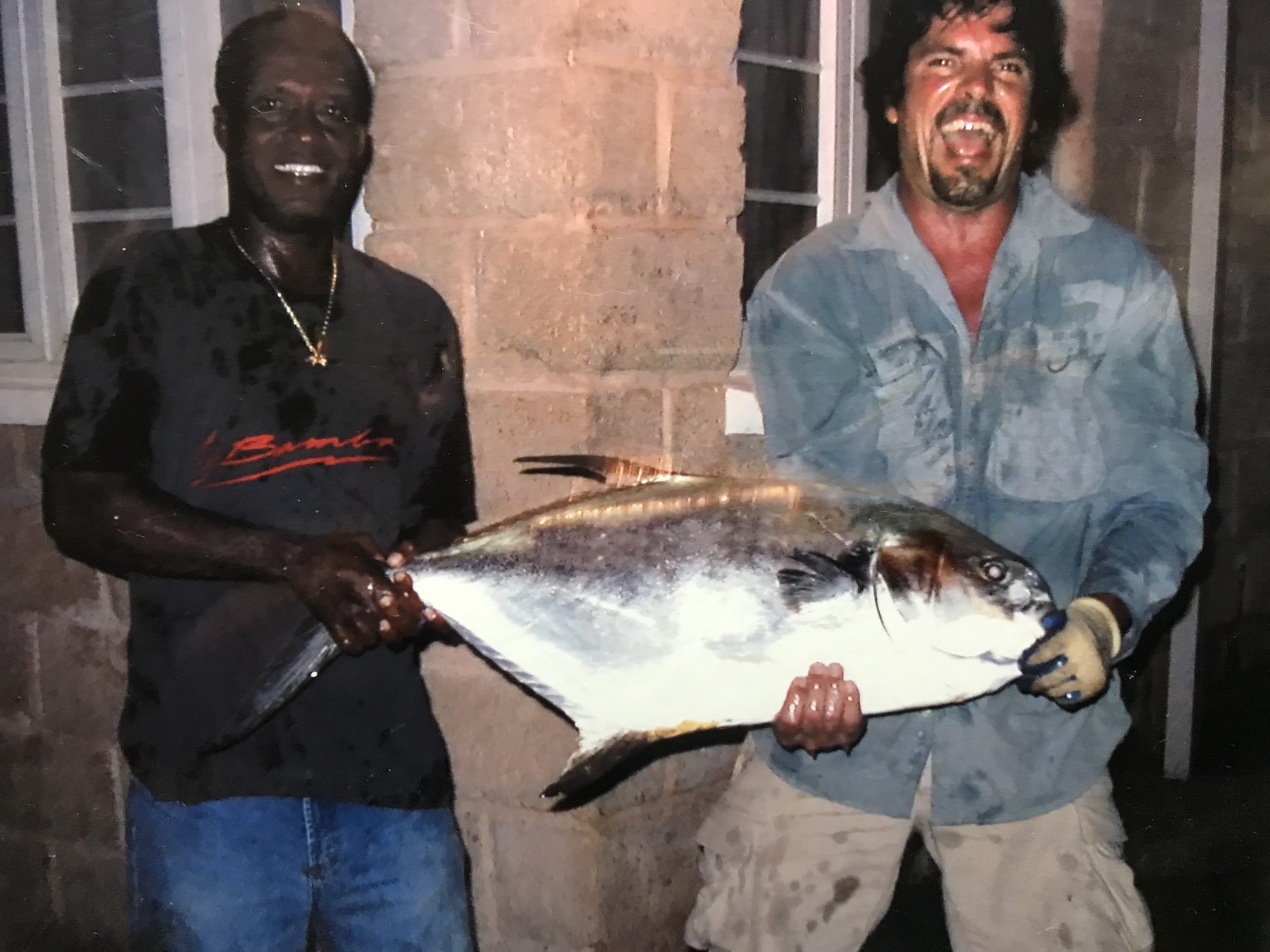 Derek and me, in the 90's.
When I explained to Derek that I fished for sport, and that I took pictures and released my catches, he cocked his head like a confused puppy does. My way was a truly foreign one to him and his cliff-fishing buddies.
One evening, after my father-in-law's trademark 6 PM dinner (and a few rum drinks), Derek and a few others were already fishing on what I called "my" cliff… but it was theirs, and they shared it with me during my time there. I had come to know several of "the Fellas", a group of locals, wearing tattered Nike shirts, old pairs of shorts, and flip flops.
I occasionally brought some tackle down for them. Several who once only used hand-lines now had fishing rods like mine, and they liked some of the lures that I'd figured out to be successful over time.
I had seen them catch small Jacks and Beard Fish, using small rods or hand lines, and after they had a few modest in their buckets, they would head home. I, on the other hand, would often fish till the sun came up, unable to turn away from the majesty, almost indescribable beauty, and limitless possibilities that swam into the shallows from outside the reef at night. These were the times of my dreams.
The next night of this particular visit, the Fellas were at it again as I emerged from dinner, equipped with my rods and tackle. After the traditional small talk and verbal sparring that most fishermen engage in, I began casting a large surface lure, almost as big as a beer bottle. They laughed a bit, joking if I was trying to catch a whale.
I cast the lure into the now dark horizon and began retrieving it with starts and sputters… and we all heard a thrashing, and something had my line screaming from my reel. The joke wasn't as funny anymore, and we were all amazed when I dragged a Horse-Eye Jack up the cliff, well over 10 pounds and almost three feet long!
I pulled the plastic disposable camera out of my sack, stood in the security lights shining from the house, and had Derek take several pictures of me and my fish. We were hooting and hollering at the catch, but they became silent when I summarily tossed the still angry fish back to the water.
It was then that Derek pulled me aside, putting his arm around me as we slowly walked away from the Fellas. In his own way, he eloquently explained that he understood my ways, and understood my desire to not harvest everything I catch.
He understood…. but they didn't. Derek explained that, while the Fellas very much enjoyed the act of fishing, and all of the brotherhood we experience on the cliff, they were fishing for food. I remember that conversation like it was yesterday, though a few decades ago.
Derek has since passed on, a victim of non-Hodgkin's Lymphoma which he fought for six years. I think of him often. We were from such different places, with such different experiences, but we were like brothers in our love of fishing. I still see many of the Fellas when I'm there.
If I catch a nice fish in Barbados, I take the time to find one of our friends there, and bring it to them. I've caught huge Barracudas and what they call Crab Crevalle, over 30 pounds, and those fish have fed a few families for a few days.
I've come to understand that fisherfolk in so many coastal communities love fishing as I do… but for different reasons. My once religious rule of CPR (Catch, Photo, Release) only works and makes sense if you're not living in poverty. It doesn't work if you're hungry.
Giving a man a fish is more than that old adage could ever explain to the beautiful people in this beautiful place. I guess it all depends on where you stand… on the cliff.
author
John is a senior consultant at Visual Teaching Technologies. He brings decades of coastal Caribbean fishing experience, providing a fresh perspective on today's blue economy.
read john's full bio