Franklin Roosevelt stated something so incredibly important that caught the attention of our nation when he said,
"The only thing we have to fear is fear itself."
The impacts, adaptation, and vulnerabilities highlighted in IPCC's 2022 report, the sea-level rise projections NOAA sea-level rise with potential changes in average tide heights and height-specific threshold frequencies, and the continued race to adapt and mitigate in the face of climate change make it an understatement to say that we live in interesting times.
Environmental knowns and unknowns can cause a "blue screen of death" paralysis* as planners and resource managers design and implement blue economy projects and programs in coastal zones.
Ecosystems, biodiversity, and human communities have varying degrees of vulnerability, and the natural world and human societies have varying capacities and limits to adapt to climate change.
Set against the impacts and risks, the adaptation needs, and the vulnerabilities posed by climate change, we have concurrently unfolding non-climatic global trends e.g., biodiversity loss, overall unsustainable consumption of natural resources, land and ecosystem degradation, rapid urbanisation, human demographic shifts, social and economic inequalities and a pandemic.
As we make decisions related to oceans, coastal zones, and watersheds, and blue economy endeavors, the complexity of the challenges is like a Gordion knot. Where do we begin?
I believe at least part of the answer is tied to lessons that I've learned from The Tibetan Book of Living and Dying:
In our minds, changes always equal loss and suffering… And if they come, these changes and the emotions of loss and suffering, we try to anesthetize ourselves as far as possible. We assume stubbornly and unquestioningly that permanence provides security, and impermanence does not.

But in fact, impermanence is like some of the people we meet in life, difficult and disturbing at first, but on deeper acquaintance far friendlier and less unnerving than we could've imagined… The realization of impermanence is paradoxically the only thing we can hold onto. Perhaps our only lasting possession. It's like the sky or the earth.

No matter how much everything around us may change or collapse, they endure. Of course, even the earth trembles now and again just to remind us that we cannot take anything for granted.
It's important to realize our perspective on it all. It's important to stop to realize that if we fall prey to overwhelm, if we fail to remember that everything is impermanent, then we're shaken to the core when something changes.
And one key takeaway I have from decades of work with water-food-energy and communities is that everything is in flux.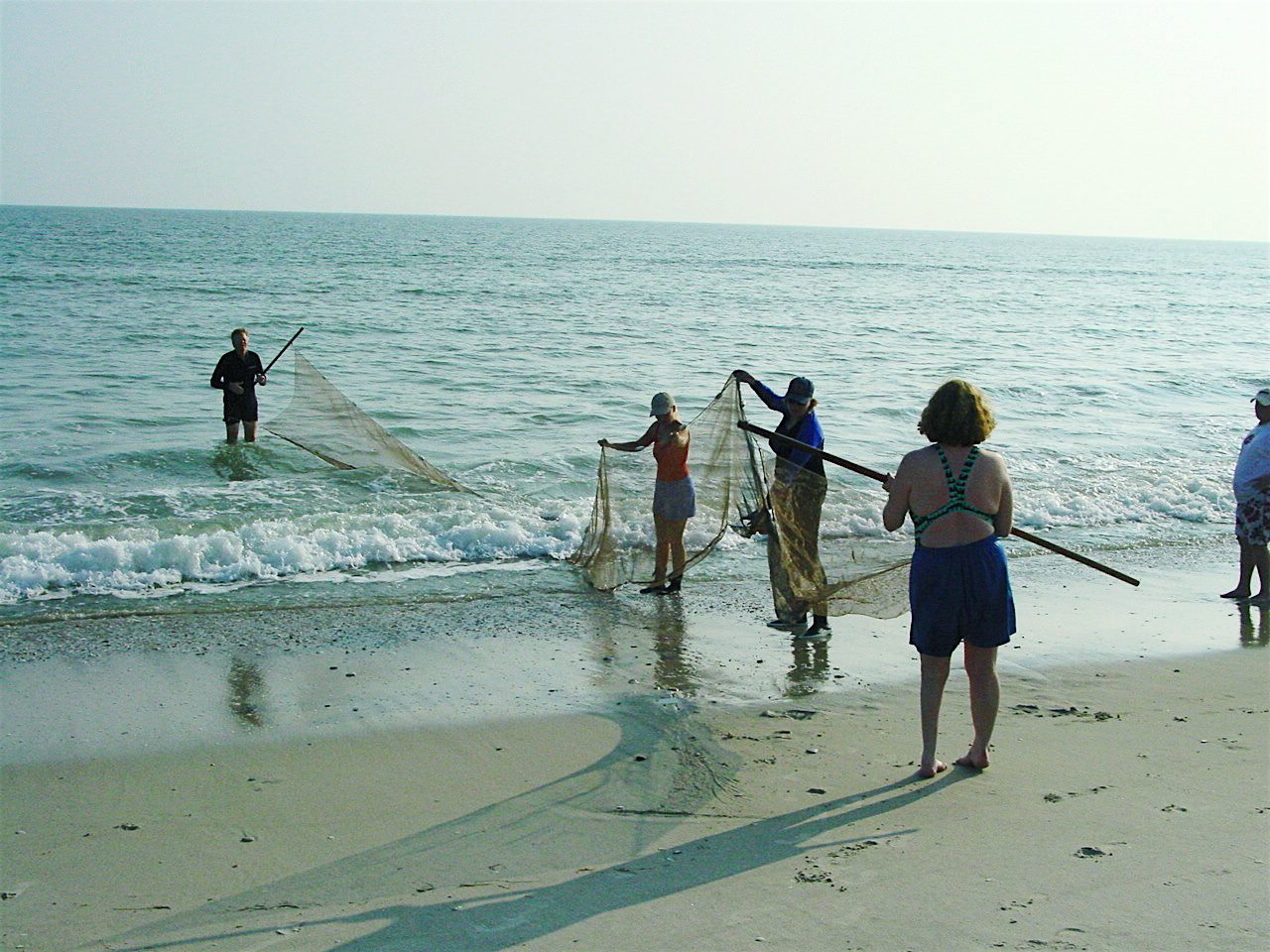 Coastal fish sampling off Bogue Banks, North Carolina.
Finding a safe harbor
Science-based projections and forecasts are generated using data collected around the world that are fed into computer models. Climate models demonstrate how the climate has changed in the past and using future greenhouse gas trajectories how the climate will change in the future.
Though machines crunch the numbers, people present the output of models. People make delivery of and response to the news sometimes problematic (if you've not already seen it, check out the film "Don't Look Up" for an example of this).
Receptiveness to the message of science isn't always positive; the data consumer can and often does respond in ways that are not predictable.
In his book Stumbling on Happiness, Daniel Gilbert makes the point that we project into the future based on memories of the past that are only really half-created or half-remembered and filled in with our own visualization of what something ought to be, that very frequently wouldn't be.
When we feel fear and are paralyzed by it, Gilbert's research shows this is often caused by using faulty memories of past experience to forecast about what something would be like, or should be like, or ought to be like in the future… and this predicted future may not–and most often does not–ever come to pass.
Though we can be paralyzed by fear, our brains set up this paralysis by using unjustified future forecasting. How can we stop, step back, and gain control of this situation, feel empowered, and not frozen, not paralyzed?
The first step is to assess a situation from more of an objective, neutral position instead of one filled with emotion. Stop and remember that everything is always changing. The leaves on the trees are changing. The light during the course of the day changes. Remind yourself that "My emotions change. Every cell of my body is changing. My expressions change. My mood changes."
The unpredictability of thoughts and emotions can blindside you, but fear should not paralyze you.
The only thing that we can really count on is this moment right now. And that doesn't mean that we stop planning and acting on reports from IPCC and NOAA, etc. It means that we're aware. And when we're aware, emotions like fear are the only thing that we have to fear.
Here's my call to action: Let's stop, catch our breath, assess, and reframe this moment… and embrace now.
---
*"Officially called the stop screen, or stop error, the blue screen of death (BSOD) is a most unwanted error, second only to malware or ransomware in indicating that a user is in for a very bad day. It comes with no warning and all unsaved work is immediately lost. And given what it indicates, that could be the least of a user's problems." See the full article here.
Sources
Sogyal, Rinpoche. 1992. The Tibetan Book of Living and Dying. San Francisco, Calif.:Harper San Francisco.
Gilbert, Daniel Todd. 2006. Stumbling On Happiness. New York: A.A. Knopf.
author
Laura Jean is the founder of Visual Teaching Technologies. Her unique perspectives stem from her decades of career experience as a hydrogeographer, geography professor, and water researcher and advisor.
read LJ's full bio

See content.
Understand context.
Discover connections.
Evaluate consequences.
send us mail
P.O. Box 443
Morehead City, NC
28557
email Us
visualteachingtechnologies
(at)gmail.com