Visual Teaching Technologies was started in 2002, dedicated to helping students learn how to relate to the world around them from a geographic perspective.
Today VTT's work portfolio has expanded to include not only students and educators, but also public agencies, private businesses, non-government organizations, and their customers who can benefit from visualizing complex problems through a geospatial lens.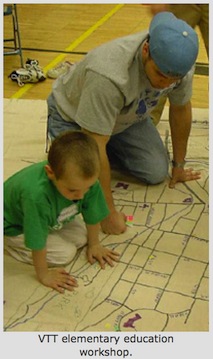 And over the years, the VTT philosophy has remained constant:
Mental construction of content is as important as presentation of content ("teaching").  Each person receiving information brings her/his prior experiences and knowing to a situation, and each person processes information presented through her/his own cultural and psychological screens.
Communication is necessary to check for understanding.  Visualization is a critical part of communication.
Multiple Intelligences theory stipulates that there are at least eight ways of knowing/learning:  Linguistic; Logical/Mathematical; Musical; Spatial; Bodily/Kinesthetic; Intrapersonal; Interpersonal; and Naturalistic.  Understanding the world means providing and soliciting information in many different ways to address the different intelligences.
If learning can be made relevant, the desire to learn increases and so does the level of understanding.  The degree to which people become engaged in the learning process is related to relevance.  Engagement can be at a variety of spatio-temporal scales.